EDI news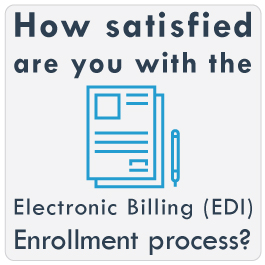 Are you sending hardcopy mail to submit your requests to First Coast? Did you know there are faster and easier ways to send your requests to us? Avoid the wait. Learn about the electronic options available for you to submit Part B claims and correct claims billed in error.
SPOT provides quick access to many useful features and functionalities.
Any EDI third party enrollment forms received with a revision date older than R01-22 will be returned after October 18.
PC-ACE instructions on updating the ISA08 and reactivating, processing and preparing claims that have already been submitted using the new EDI TIBCO Gateway.
Any future requests must be submitted using the R01-22 version enrollment forms.
The PWK (paperwork) segment of the X12N version 5010 allows for submission of supporting documentation with a version 5010 837 electronic claim. This article details the process for using this option.
[CR 10397]
First Coast and providers are negatively impacted by invalid or unnecessary PWK fax/mail/esMD coversheets. This article reviews ways you can avoid these issues.
First Coast Service Options (First Coast) strives to ensure that the information available on our provider website is accurate, detailed, and current. Therefore, this is a dynamic site and its content changes daily. It is best to access the site to ensure you have the most current information rather than printing articles or forms that may become obsolete without notice.