Last Modified:

7/13/2023
Location:

FL, PR, USVI
Business:

Part A
RTP reason codes 153XX to 154XX FAQ
Q: What steps can we take to avoid return to provider (RTP) reason code(s) 153XX-154XX?
Click here
for a description associated with the Medicare Part A reason code(s). Enter a valid reason code into the box and click the submit button.
A:
Claims that RTP with reason codes 153XX-154XX indicate that the total charges revenue line 0001 contains a charge not equal to the sum total of all line items billed (covered and non-covered) on the claim.
There may have been updates or changes to some of the line items billed, but the total charge line was not deleted and re-entered with the correct amount.
To avoid this reason code from recurring, the following steps should be taken prior to updating the claim:
•
Verify total charges for all line items billed (covered and non-covered)
•
Delete revenue code line 0001, and re-key calculated charges
The processes for deleting and re-keying revenue code lines are outlined below.
•
Access the claims correction menu under option 03
•
Enter the appropriate selection that matches your provider type
•
Enter the NPI, then T B9997 in the S/LOC field
•
Select the claim under the SEL field
•
Go to claims page 02 or the MAP1712 screen
•
Do not
key over the existing line item when making corrections (such as, revenue codes, units, charges, etc.)
•
Delete line(s) requiring revisions, by keying D000 over the revenue code, press the 'Home' key, then 'Enter'
•
Add line items back to the claim by typing in the new revenue code line information under the 0001 line, press the 'Home' key, then 'Enter'
•
Update the total charge and/or non-covered charge amount on the 0001 revenue code line to reflect the correct amount
•
Press the 'F9' key for claim submission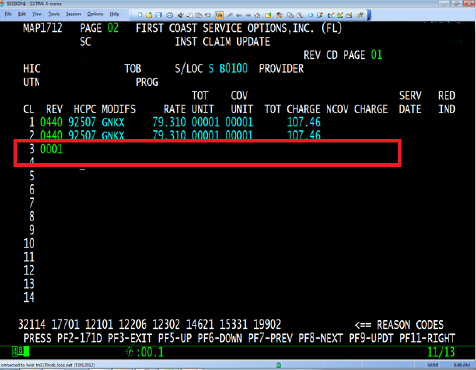 Source: Education Action Team;

Medicare Part A Direct Data Entry (DDE) Training Manual
First Coast Service Options (First Coast) strives to ensure that the information available on our provider website is accurate, detailed, and current. Therefore, this is a dynamic site and its content changes daily. It is best to access the site to ensure you have the most current information rather than printing articles or forms that may become obsolete without notice.