Last Modified:

1/15/2021
Location:

FL, PR, USVI
Business:

Part A, Part B
How to add an additional role and access another organization
1. Log in to the Identity Management (IDM) system:
https://home.idm.cms.gov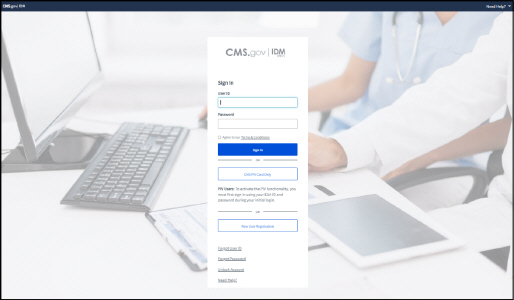 2. Enter your UserID and password
3. Choose your MFA device and enter the code when you receive it
4. Check to agree to terms and conditions
5. Click Sign In
6. Select
Manage My Roles
from the IDM Self-service page

7. The
Mange My Roles
page will appear
8. Locate the SPOT application name
9. Click the green icon to add a role under Actions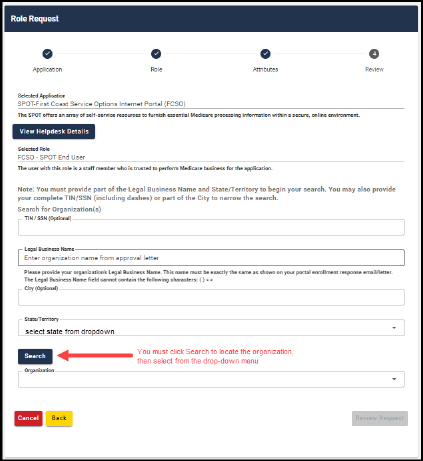 10. In the Select a Role drop-down menu, choose your role
•
If you select
SPOT end user
, search for your organization, select your organization in the drop-down, and click Review Request. On the review page enter your reason for request (e.g., access to Medicare data), and click Submit Role Request.
•
Note:
If your organization is
not found
, it has not been created by an approver yet. Your organization must have a designated approver who has created your organization in IDM. Please consult with your organization's designated official.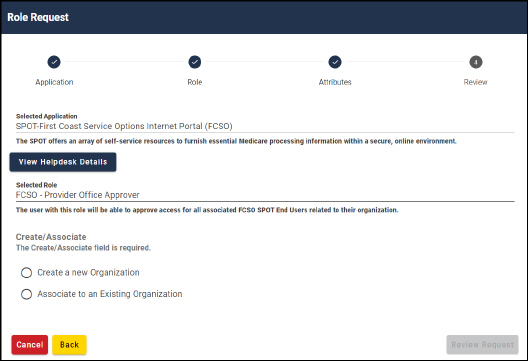 •
If you select
Approver or Backup Approver
, you can either associate to an existing organization, or create a new organization. If you create a new organization, you must have already submitted the new organization form and received your
submitter ID
from the SPOT Help Desk. If you have not already done so, please
follow these instructions
to submit your new organization form.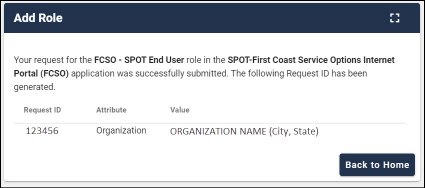 11. You will receive a confirmation screen and number. If you are an end user requesting a new role, the approver for that organization will receive a notification of your request via email, which they can then approve. If you are an approver, the SPOT Help Desk will review your request and you will receive an email notification once processed.
First Coast Service Options (First Coast) strives to ensure that the information available on our provider website is accurate, detailed, and current. Therefore, this is a dynamic site and its content changes daily. It is best to access the site to ensure you have the most current information rather than printing articles or forms that may become obsolete without notice.