Last Modified:

2/16/2023
Location:

FL, PR, USVI
Business:

Part A, Part B

Registering for an event
Instructions
1. From the First Coast Event Calendar, click the Register now button.

2. You will be directed to the event's home page in WebEx.
3. Verify the event name, date, and time.
4. Click the Register button
5. Complete the registration form. The following fields are required:
•
State/Territory where you reside (2-digit state abbreviation)
•
Provider/Facility/Company Name you represent
•
National Provider Identifier (NPI) – options field
•
Jurisdiction (pre-populated field)
•
Line of Business (select either Part A or Part B radio button)
•
Part A (facility services billed on a CMS UB-04 claim form or an electronic equivalent)
•
Part B (professional services billed on the CMS-1500 claim form or an electronic equivalent)
•
Event Title (pre-populated field)
•
Event Date (pre-populated field)
•
CEU Offered for the Course (pre-populated field)
•
Would you like to join our electronic mailing list? – optional field
6. Click Register

7. A pop-up box will appear advising that your registration has been approved, and you will receive an email confirmation.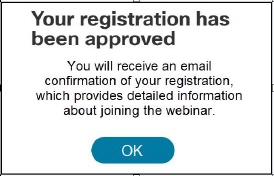 8. After submitting the WebEx registration form, you will receive email confirmation from
messenger@webex.com
to the email account used to register for the event.
•
The webinar access code and password are in this email
•
For event handouts, click 'Download and preview webinar materials' in this email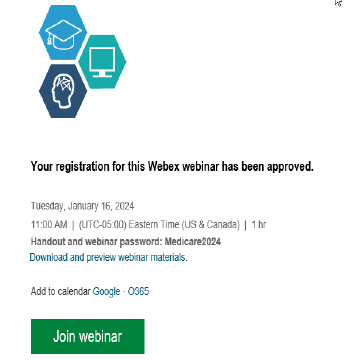 9. On the day of the event, click Join Webinar button. You can also click the webinar link or paste the webinar link into your browser.
•
Chrome continues to be the recommended browser to host WebEx.
10. Event handouts will be available the day prior to the event and can be accessed within the Download and preview webinar materials link.
First Coast Service Options (First Coast) strives to ensure that the information available on our provider website is accurate, detailed, and current. Therefore, this is a dynamic site and its content changes daily. It is best to access the site to ensure you have the most current information rather than printing articles or forms that may become obsolete without notice.