Last Modified:

10/20/2023
Location:

FL, PR, USVI
Business:

Part A, Part B
Accessing MyCEUCertificate Gateway and Obtaining Certificates
Continuing Education Units (CEU) certificates may be awarded for successful completion of First Coast's educational events and will be maintained within our MyCEUCertificate Gateway for two years from the date of the event. You can view and download the certificate for your records. We will not reproduce CEU certificates beyond the two-year timeframe.
The AAPC accepts CEUs for CMS and Medicare Administrative Contractor (MAC) sponsored events at a rate of 1.0 CEU per 1 hour of education. Index numbers are not printed on the certificate. Other licensing or accrediting organizations may or may not accept MAC events for CEU credit. Please check with your licensing or accrediting organization for specific CEU eligibility and documentation requirements.
Instruction for accessing MYCEUCertificate Gateway
1. Access our website at
medicare.fcso.com
. From the left navigation bar, click 'Learning Center'. From the drop down, select MyCEUCertificate Gateway.
2. Click the link under 'Log in to the MyCEUCertificate Gateway today!"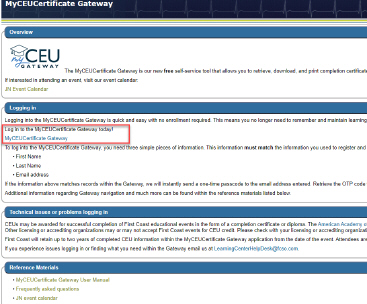 3. Please review the warning disclaimer that appears. Click the Accept button to be routed to the User Authentication page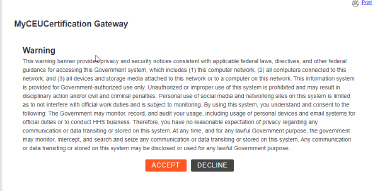 4. To log into the Gateway, enter your first name, last name, and email address into the required fields. Once completed, click the 'Email OTP Code' button to obtain a code via email.
•
Tip: Your first name, last name, and email address MUST match the information you used to register for the event.
5. Once you receive the OTP email, retrieve the code from the email and return to the page to enter the one-time PIN (OTP) in the field provided. (Code expires after 15 minutes).
6. Review the disclaimer information and click 'Submit'.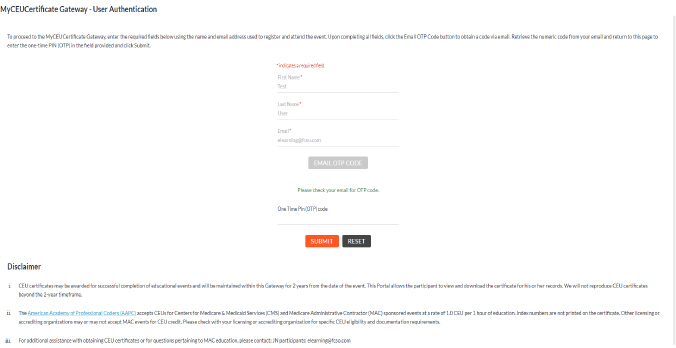 7. From the Gateway homepage, you will be able to view and download your most recent certificates. If you would like to view a certificate for an earlier event, click the 'Search' button. Input the date of the event you are looking for into the search parameters.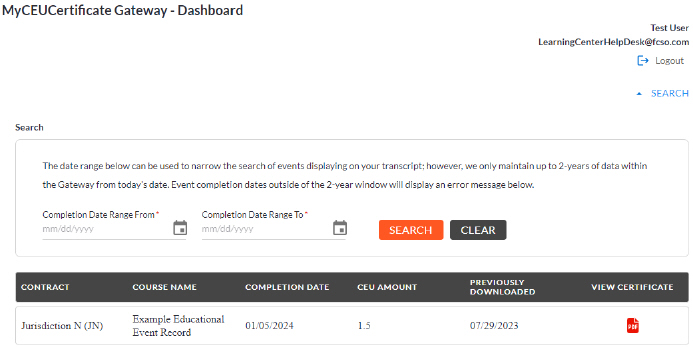 8. To download your certificate, click the PDF icon in the right-hand column. A pop-up box will open in the right-hand corner of your browser asking you would like to Open or Save your certificate. See below for an example of a complete certificate.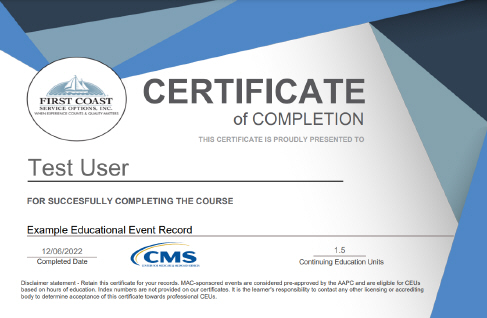 If you have any questions regarding the MyCEUCertificate Gateway, email us at
elearning@fcso.com
.

First Coast Service Options (First Coast) strives to ensure that the information available on our provider website is accurate, detailed, and current. Therefore, this is a dynamic site and its content changes daily. It is best to access the site to ensure you have the most current information rather than printing articles or forms that may become obsolete without notice.