Last Modified:

12/28/2017
Location:

FL, PR, USVI
Business:

Part A, Part B
Opening a secure email message
In order to protect personal identifying information or personal health information, First Coast Service Options Inc. (First Coast) will sometimes send providers secure emails. Due to problems with some organizations not being able to access the SecureZIP® files, an alternate secure website (ZIX) has been utilized to send secure information. If you receive a secure email from First Coast, it will look like this: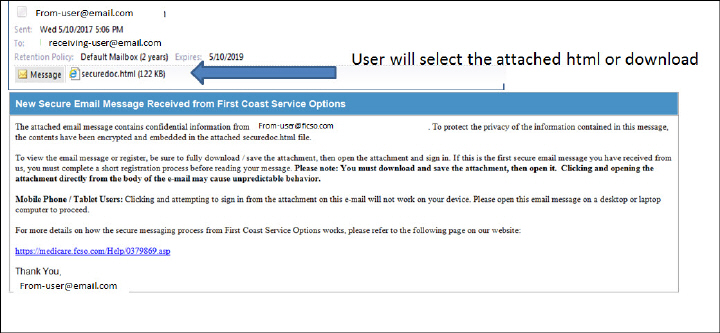 To view the email message, you must fully download the attachment, then open and sign in. If you receive a secure email message from First Coast and you have not used ZIX software before, you must complete a short registration process before reading your message. On July 30, 2017, First Coast ceased using the IronPort software and began using ZIX software to send secure email messages to provi
ders.
First Coast Service Options (First Coast) strives to ensure that the information available on our provider website is accurate, detailed, and current. Therefore, this is a dynamic site and its content changes daily. It is best to access the site to ensure you have the most current information rather than printing articles or forms that may become obsolete without notice.