Last Modified:

6/6/2020
Location:

FL, PR, USVI
Business:

Part A
Avoiding RTP reason code 34931
Q: What steps can we take to avoid return to provider (RTP) reason code 34931?
Click here
for the description of this Medicare Part A reason code. Enter the reason code into the box and click the submit button.
A:
One or more present on admission (POA) indicator(s) is/are missing, invalid or incorrectly submitted with the reported diagnosis code(s). It is recommended that you review each diagnosis code and POA indicator to ensure it is correct, prior to submitting your claim.
•
POA is defined as being present at the time the order for inpatient admission occurs. Conditions that develop during an outpatient encounter, including emergency department and/or observation services, or outpatient surgery, are considered POA.
•
Claims for inpatient admission to acute care inpatient prospective payment system (IPPS) hospitals must include the appropriate POA indicator for the principal and all secondary diagnoses, unless the code is exempt.
•
It is important to review the POA exempt list to ensure you are submitting your claims correctly. Refer to downloads on the CMS website, at
Hospital Acquired Conditions (Present on Admission) - Coding
.
•
FY 2018 POA exempt list [ZIP, 1MB]
The following hospitals are exempt from this provision:
•
Critical access hospitals
•
Long term care hospitals
•
Children's inpatient facilities
•
Religious non-medical health care institutions
•
Inpatient psychiatric hospitals
•
Inpatient rehabilitation facilities
•
Veteran's administration/department of defense hospitals
Valid values for POA indicators are:
Code

Reason for code

Y

Diagnosis was present at time of inpatient admission.

N

Diagnosis was not present at time inpatient admission.

U

Documentation insufficient to determine if the condition was present at the time of inpatient admission.

W

Clinically undetermined. Provider unable to clinically determine whether the condition was present at the time of inpatient admission.

'Blank'

Unreported/not used. Exempt for POA reporting.

Note: Blank is used on UB-04 claim form and the equivalent 5010 electronic claim version.
CMS-1450 claim form (UB-04) field locator (FL) requirements:
•
Enter the principal diagnosis code in FL67, and POA indicator in the shaded portion.
•
Enter the secondary diagnosis code(s) in FL67A through FL67Q (if applicable), and POA indicator in the shaded portion.
•
For additional claim requirements you may refer to the
Medicare billing: 837I and form CMS 1450 fact sheet
.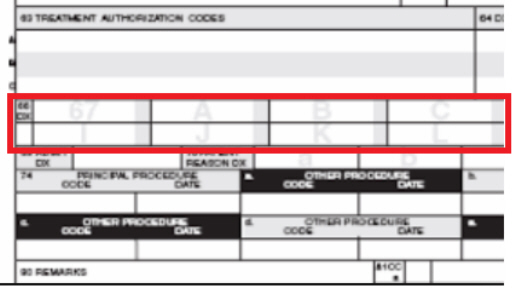 •
Refer to claim page 3 (MAP1713) of the claim entry screen for coding diagnoses and POA indicators.
•
Enter the principal diagnosis and POA indicator in the DIAG CODES 01 field.
•
Enter the secondary diagnosis code(s) and the appropriate POA indicator(s) is entered in the DIAG CODES 02 through 25.
•
Refer to the
Medicare Part A direct data entry (DDE) training manual
for additional guidance.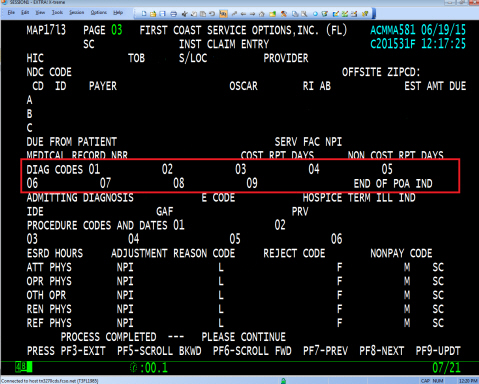 Please use your browser's
back button
to return to the referring page.
Source: First Coast Provider Outreach and Education
First Coast Service Options (First Coast) strives to ensure that the information available on our provider website is accurate, detailed, and current. Therefore, this is a dynamic site and its content changes daily. It is best to access the site to ensure you have the most current information rather than printing articles or forms that may become obsolete without notice.