Last Modified:

8/4/2023
Location:

FL, PR, USVI
Business:

Part A
Claim reject FAQ -- Adjust or resubmit
Q: How do I know when to adjust or resubmit a claim that has been rejected?
A:
Occasionally, claim rejects will post to the beneficiary's records on the Common Working File (CWF). The most common effected rejection reason code range is 34XXX (Medicare secondary payer). If a claim reject has posted to the CWF, a new claim submission is subject to duplicate editing. Claim rejects that have posted to the CWF may be adjusted within the appropriate timeframe.
The following information is exclusively available for direct data entry (DDE) users.
The tape-to-tape (TPE-TO-TPE) flag indicators in DDE will advise whether a claim has or hasn't posted to the CWF. Refer to the TPE-TO-TPE field on claim page 2
or
the MAP171D screen from the claim inquiry screen.
•
The claim reject did not post to the CWF if the flag indicator is 'X.'
•
The claim reject posted to the CWF if the flag indicator is ' ' (blank).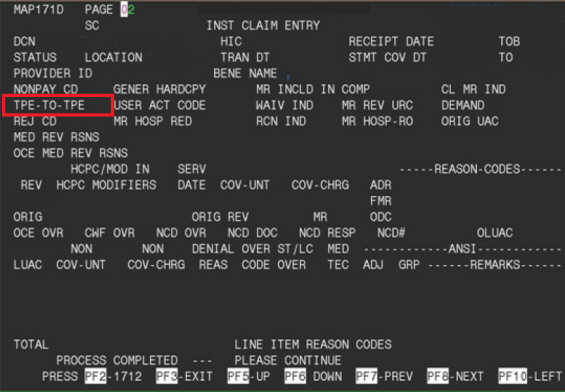 First Coast Service Options (First Coast) strives to ensure that the information available on our provider website is accurate, detailed, and current. Therefore, this is a dynamic site and its content changes daily. It is best to access the site to ensure you have the most current information rather than printing articles or forms that may become obsolete without notice.