Last Modified:

9/28/2020
Location:

FL, PR, USVI
Business:

Part A, Part B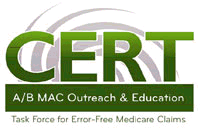 Presentation with updates, progress, and new educational products from the CERT A/B Contractor Task Force
Medicare Administrative Contractors (MACs) introduced the Comprehensive Error Rate Testing (CERT) A/B MAC Outreach & Education Task Force in August 2013. Since that time, the task force has worked diligently to create educational materials for providers that address national issues of concern regarding improper payment errors. If you haven't taken advantage of this learning opportunity, now is the time to learn more about how this partnership affords providers the benefit of a collaborative, consistent voice to reduce costly claim denials as well as the CERT error rate.
Click on the following link to access the presentation:
•
Presentation
First Coast Service Options (First Coast) strives to ensure that the information available on our provider website is accurate, detailed, and current. Therefore, this is a dynamic site and its content changes daily. It is best to access the site to ensure you have the most current information rather than printing articles or forms that may become obsolete without notice.