Last Modified:

7/20/2023
Location:

FL, PR, USVI
Business:

Part A, Part B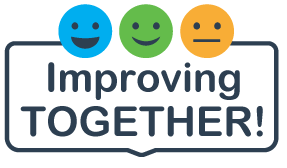 Improving together: You participate, we innovate
We appreciate your feedback. We evaluate your feedback every day and use your suggestions and questions to help drive improvements to our websites.
There are multiple ways in which you can send your feedback to us.
Satisfaction surveys

-- These are voluntary opportunities to take a quick survey and let us know how you feel about First Coast departments and processes.

Feedback tab

-- This is the colored tab located on the right side of the website. Click the tab and a pop up will appear. It will ask you what your feedback is about, and you can choose between three options:

Information on this page

A technical issue

Something else

Digital experience survey

– Invitations to participate in this survey will randomly display while visiting our website and portal, welcoming you to share your experience with us.

Provider Contact Center phone-based surveys

- Tell us about your experience after using the IVR and also after speaking with our contact center representatives.
First Coast Service Options (First Coast) strives to ensure that the information available on our provider website is accurate, detailed, and current. Therefore, this is a dynamic site and its content changes daily. It is best to access the site to ensure you have the most current information rather than printing articles or forms that may become obsolete without notice.